When talking about taking streaming or content creation in general to the next level upgrading audio equipment is one of the first things to do. For reference on what might be a good fit for you, have a look at our audio guide to happiness.
In this review/ guide we will talk about one possible one-stop-shop solution that might be interesting to you. First of all, I have to disclose: AVerMedia sent me their NEXUS interface and their dynamic mic for review. They did so for free, but this is not a sponsored post. Going into the test, I've been using AVerMedia products at several business events as compact devices that delivered good quality images so my expectations for their audio equipment are high as well.
So let's answer the question: Are the AX310 and MIC330 worth 450€?
Live Streamer MIC 330 AM330
Let's start with the mic itself. It's a pretty straightforward dynamic XLR mic with a directional cardioid polar pattern. It doesn't need phantom power and has a ⅜ and ⅝ inch connector which fits with most microphone stands/arms out there. Unfortunately, there isn't a table stand included, which to be fair I expected for the price of 99,90€. It does come with an integrated pop-filter which is very nice, given you have to sit roughly 10cm in front of it for it to actually pick up the sound. This is not a flaw with the product itself though but rather with dynamic mics in general. On the other side, this has the advantage of not picking up any surrounding sounds like birds outside or computer fans when they are at full throttle, therefore decreasing the need for soundproofing your recording setup.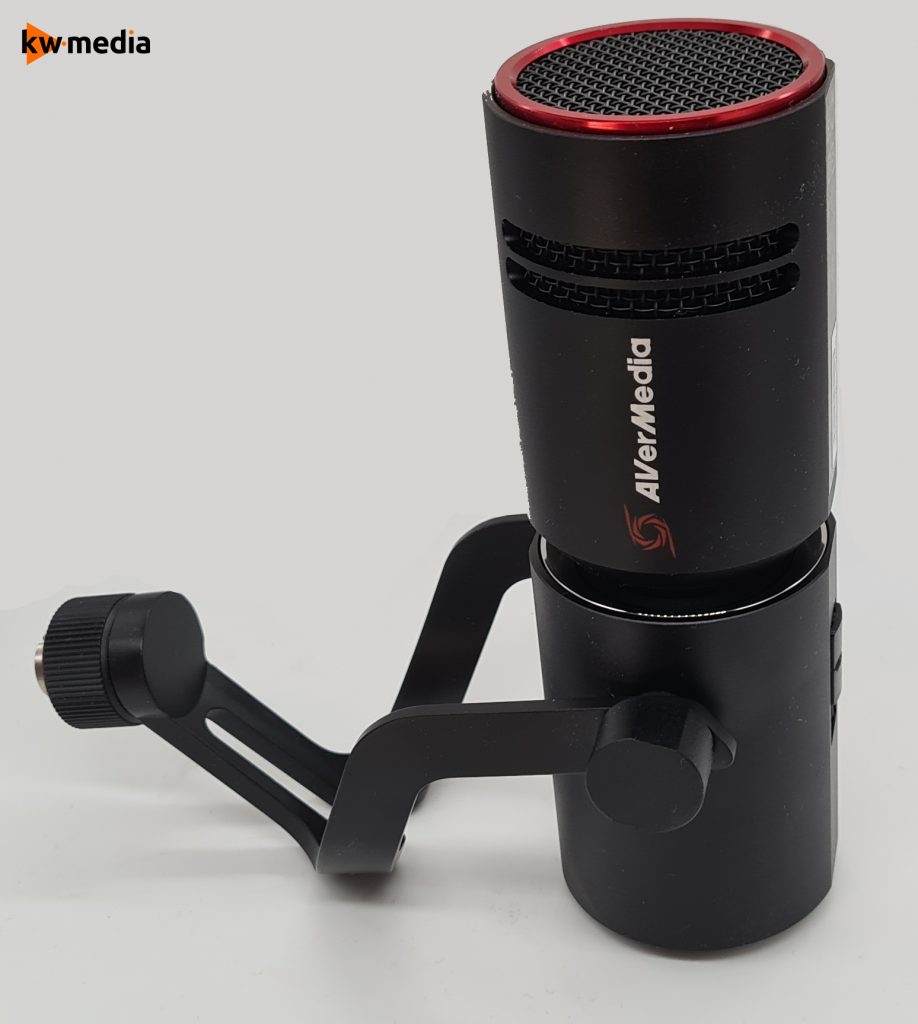 So, having an XLR mic also means you need a USB interface to connect it to your computer. That might be one you've picked up for cheap second hand or you stick with AVerMedia again. I've included a link to myself trying out the video in case you want to hear what it sounds like in combination with the next piece of equipment, the AVerMedia Live Streamer NEXUS.
Live Streamer NEXUS AX310
The AVerMedia Live Streamer NEXUS is a XLR-USB interface to connect any mic to your computer, able to mix up to six audio lines including virtual audio lines and have integrations to OBS and YouTube to show the chat on the touchscreen. Let's go through the functions and see what's good and what needs to be improved to determine if this is worth the 349,00€.
Let's talk about some general points first. The NEXUS AX310 is quite heavy with its 1kg, but this is actually an advantage since it provides enough weight to not slight easily away whenever I try to operate it, something that happens a lot to me while using the Elgato Streamdeck. Also, I really like the magnetic stand that comes with it. It has the perfect height and angle for me.
Audio Interface
The NEXUS does what it is supposed to do. Once connected to the PC, installing the software, and a couple of attempts to actually connect and update the firmware all the virtual audio lines were set up and worked as intended. Note that it is important to take an hour or two to sit down and plan out your audio line setup. It will make things easier although I have to admit it was very easy to understand even without having read the manual (who does that anyway). For the example video I used the system sound to regulate some background music for streaming, remember to only use music you have the licenses to, in my case epidemic sound, had the MIC 330 connected to the interface and Discord on the Chat line.
The mastered output directly fed into one of my OBS mic lines and being able to regulate every line with a haptic radio knob was a very good feeling. There also is a spotify integration but I would keep my distance from that due to possible copyright problems that come with using it. Also being able to mute certain channels with a push of a button makes it really handy to mute music and microphone during cutscenes in game recordings for example.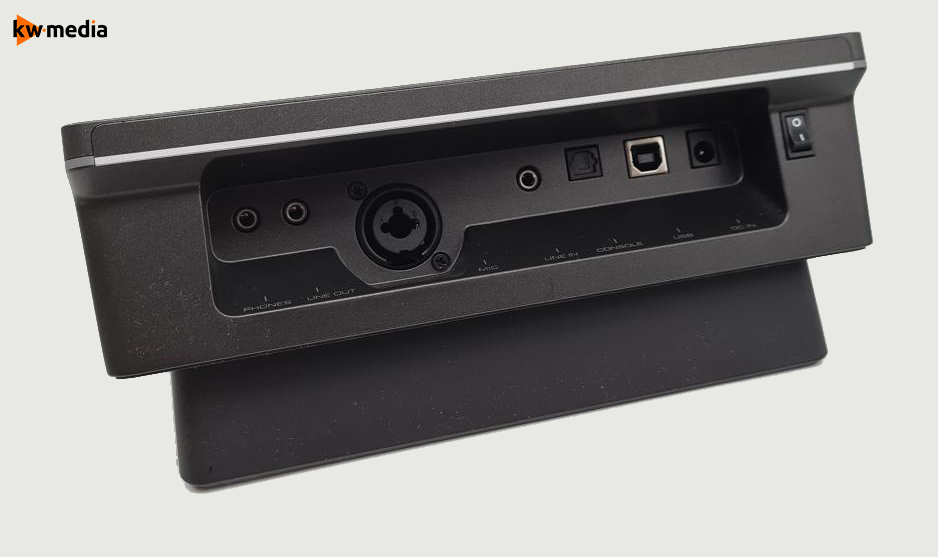 OBS Integration
Setting up OBS integrations was a bit of a pain in the butt. Instead of using the direct API like competitor products such as the stream deck, the AVerMedia Nexus relies on the OBS WebSocket plugin which needs to be downloaded and installed first before you can actually connect your NEXUS to OBS. It wasn't too bad but it is still something I would say is not suited for a total beginner but rather someone who has already a bit of experience in tinkering with OBS, plugins and widgets. The same functions are mirrored to work with StreamLabs OBS but in all honesty, just use OBS. You can do all the fancy shit SLOBS offers in OBS as well without impacting your performance too much. Of course, the NEXUS will connect to AVerMedia's recording software as well. All integrations support the switching of scenes, start and stop a recording as well as start and stop an outgoing Livestream.
YouTube Integration
Connecting your YouTube channel to the NEXUS was easily completed via an oauth prompt. But I need to point out that NEXUS gets more permissions on your channel than it actually needs. So imho this needs to be reworked. Regarding the actual features, once you have established a connection, there is a live view counter telling you how many viewers are watching your stream, a subscribe alert, and a chat display widget. The chat widget could have a slightly larger font size to it for normal text while reducing the size of standard emotes while increasing the size of custom emotes. Unfortunately, that is not customizable for users as far as I have seen. For those of you who are keener on streaming on twitch, the exact features are mirrored for a stream integration over there as well. I am missing a 'send chat' feature with both integrations.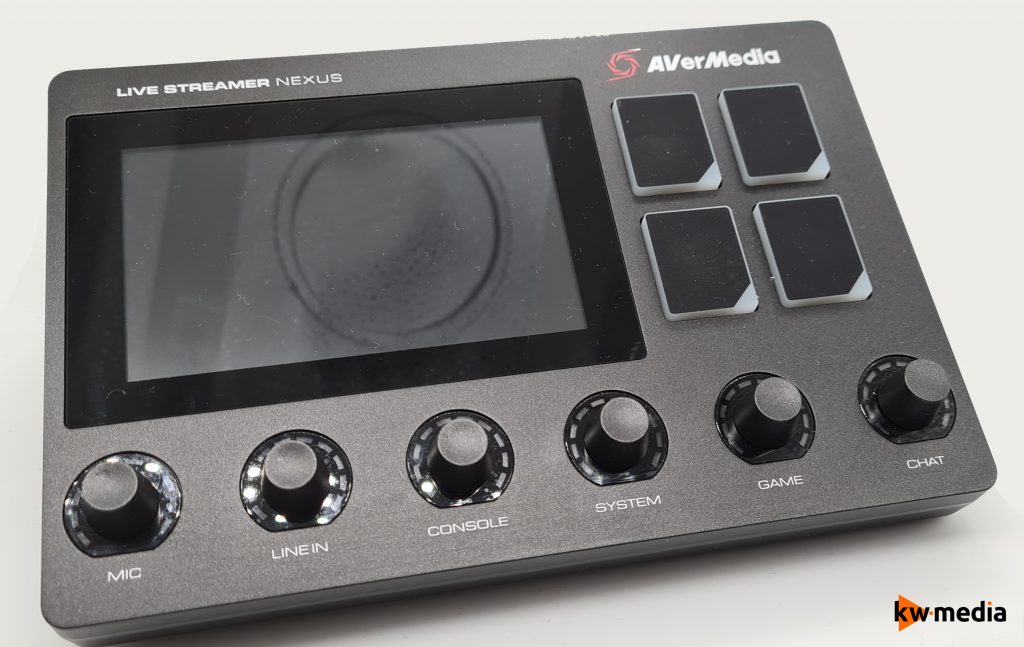 System Features
This part of the review is rather interesting for both using the NEXUS in your stream as well as outside your stream. The soundboard feature is a nice addition for adding a bit of creativity for new subscribers/members to your channel or just as additional entertainment. Outside your stream/recordings, I can see the system features as being a nice addition to a productive workflow.
Let me explain: The four buttons on the right I've assigned to OBS, Steam. Adobe Photoshop and Adobe Premiere Pro making it easy to start up my most important programs for creating. On the touchscreen itself, I've mapped some useful hotkeys for said programs. Unfortunately, it does not support ALT-key or WINDOWS-key multi hotkeys so opening the windows screenshot tool with WINDOWS + SHIFT + S or exporting in Photoshop ALT + SHIFT + CTRL + W are unfortunately out of the scope. I hope the functionality will be added later on with the continuation of the development.
System functions also include a text macro with up to 500 characters. This unfortunately is only useful outside of your stream for answering FAQs on your discord for example. I am really missing the option in the YouTube and Twitch Integration, this could be a very nice way to send reminders into chat, eg a follow/subscribe CTA or product placement texts, and yes, those are actually worth something, read more about it in our guide about sponsorships and brand collaborations.
Conclusion
This post was about the question: Is it worth getting the AVermedia Streamer MIC 330 and Nexus AX310 for 450€?
As someone who always struggles with free space on my desk, I think the combo is indeed worth it. If you are in need of an audio interface for your mic anyway and don't want to clutter your desk further with a Streamdeck, this is the right choice.
Comparing it to the setup I've been using up until then (Rode NT-USB (~150€) & Elgato Streamdeck (115€)), the really big difference is having the haptic audio line mixer. Benefits will of course stack if you are using AVerMedia's recording software & hardware as well, giving you a one-stop-shop solution for streaming. I have to admit after the test, I do like the clarity of dynamic mics over condenser mics.
The main drawback is the currently limited functionality as a Streamdeck alternative and the still missing SDK Framework for modding the NEXUS.

This is not a beginner product!
It is a very good product for creators expanding their channels from a hobby into a semi-professional or even professional environment tough and I would recommend it under that circumstances.
($) – Affiliate Link / Advertisement